Official Municipal Website
for the Town of Kingfield
Welcome to our official website, used to communicate with our residents, businesses, and visitors. At the Town of Kingfield we always strive to provide up-to-date information on town services and how we are working to enhance your quality of life. Check back often for updates on recreation activities, the latest actions of the Board of Selectmen, town news, and other areas of interest.  Nestled in a river valley surrounded by the Longfellow Mountain Range, Kingfield is known for its scenic qualities, including outstanding views of mountains, valleys and rivers. The Route 27 Scenic Byway bisects Kingfield, Carrabassett Valley and Eustis. [/one_half_last]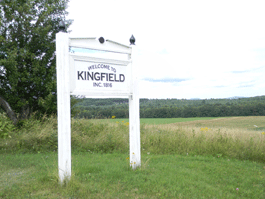 Kingfield Village lies at the confluence of the West Branch and Carrabassett Rivers and the intersection of Routes 16, 27 and 142.
Wood products and recreation/tourism are important industries to this region. Kingfield serves as a regional service center for its residents and citizens of Salem and Freeman Township,  Carrabassett Valley and New Portland, with lodging, banking, grocery shopping, art galleries, beauty salons, a public library, transfer station, U.S. Post office, gasoline service stations, schools, sporting equipment dealers/rentals and real estate services among the offerings. The newest industry in town is Nestle's Poland Spring bottling plant.
Kingfield has a total land area of 38 square miles, or about 24,500 acres, most of which are covered with forest or woodlands. The commercial areas are located along Main and Depot Streets and Commercial Road.
The year-round population numbers 1,097.
We welcome all visitors to Kingfield, which is listed in the 2007 book by Sarah Tuff and Greg Melville, "101 Best Outdoor Towns: Unspoiled Places to Visit, Live and Play."
We are recognized by these authors for our rural character and four-seasons opportunities.
Kingfield was recently highlighted in The Boston Globe, recognizing the grandeur of its scenery and opportunities for such activities as moose watching, fishing, canoeing, kayaking, hiking, ATV riding, swimming, dining, golf, skiing , snowmobiling, the annual July Kingfield Festival Days and other recreational activities; and, of course, Kingfield's connection to the Stanley family. The Stanley Museum, on School Street, highlights the many accomplishments of the family, including the famous Stanley Steamer automobile. Kingfield is also the home of the Ski Museum of Maine.
Other popular cultural events include the annual summer Kingfield POPS concert featuring the Bangor Symphony Orchestra which brings thousands of visitors to town and holiday Tree Lighting ceremony.
Ski Magazine described Kingfield as "the most beautifully preserved ski town east of Aspen," referring to our close proximity to the Sugarloaf Ski Resort and Golf Course.
Note: Winter visitors can find the current snowmobile trail conditions listed for Kingfield on this Home Page by clicking on the Trail Report Button to the left.
Let Us Know What You Think. As we develop this web site, it's important for our citizens to have input into the content of our pages. What do you want to see here? What information should we include? How can we make it better for you?
To contact the Town Office/Selectmen or webmaster call the Town Office at 207-265-4637, e-mail kingfieldmaine@gmail.com or regular mail:
Town of Kingfield
38 School Street
Kingfield, ME 04947
207-265-4637